Roofing Emergencies and More
This summer has been pretty dry for most of Texas, but those fall rains are just a few weeks away. Once Labor Day passes, we could wake up to endless days and nights of rain, and the last thing any homeowner wants is a roof leak. It is the possibility of needing roof leak repair why roofing contractors and insurance companies recommend having your roof inspected at least once a year. 
By having annual roof inspections, possible problems can be repaired right away. If you have an emergency roof leak, repair could take longer because you won't be the only homeowner calling roofing contractors! When those fall rains come, it seems like every roof in the state has sprung a leak, and contractors get backlogged. Somewhat unfortunate, not all roof leak repairs are an emergency. 
So, When Is a Leaking Roof an Emergency?
There is a small drip coming from the roof one minute, then the next minute, the rain is pouring into the house. Yup, that is an apparent roof leak repair emergency! Here are five other indications that your roof has been compromised by the weather and needs immediate attention: 
Dripping and Discolored Ceiling
After three days of massive rainstorms, if you're noticing discoloring on the ceiling, you have a roof leak, repair needs to be made sooner than later if that heavy, persistent rain doesn't stop. Then a torrent of water will flood your internal ceilings, and the internal underlayment that protects the ceiling begins ponding. The underlayment will become overwhelmed by the consistent rains, and then the dripping ceiling begins. 
Puddling on the Floor
Puddling on your floors is a clear sign of penetrating rain, so when there are puddles on the floor, you already leak internally. If the rain is persistent, eventually, the buckets won't be enough to catch the rain that will start coming inside.   
Moist, Paint Peeling Walls
When water starts running down the wall, from the inside, it will soak through and eventually start damaging the paint or wallpaper.  A roof leak that causes water to run down the wall isn't always easy to identify. So, if you see discoloring and stains on the wall, there is a roof leak, the repair is needed sooner than later because it is only going to get worse. 
Multiple Spots
When you see multiple spots of discoloration and dripping, there is actual extensive damage causing the roof leak. Repair may not be immediately available, so you'll need to do a temporary roof leak repair that will minimize any more rain coming inside until a roofing contractor arrives.
Massive External Damage
As the rain slacks off, take the time to inspect your roof, looking for any massive external roof damage, and if you see any, schedule a roof leak repair immediately. Even if there are no indications inside the house, it is only a matter of time. You need a professional that knows how to repair a roof leak so that you don't have any future problems.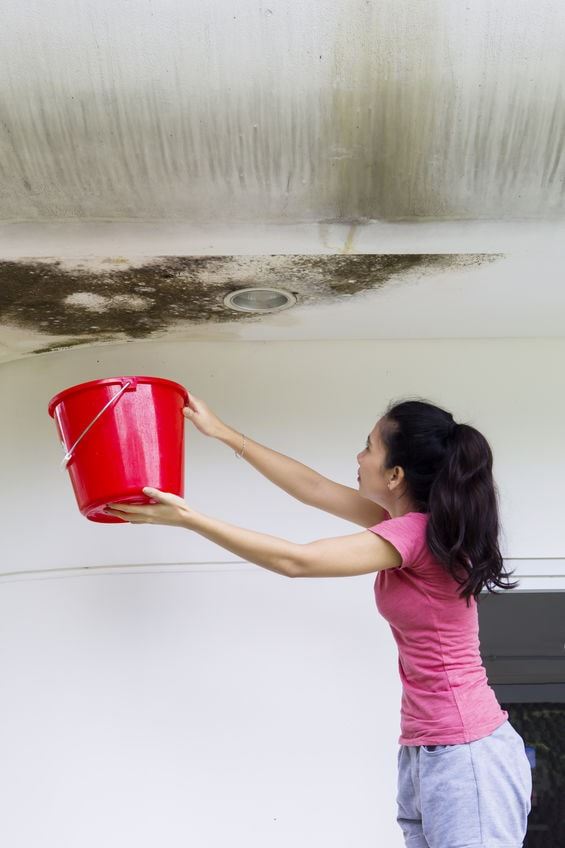 What to Do If Your Roof Is Leaking?
First, you want to contact your insurance company and get the claim started. They will have an adjuster in contact with you and may have a list of roofing contractors to call. In the meantime, you need to get a roof leak repair or patch. 
Flexi-tape and plastic tarp should always be in your garage for emergency roof leak repair. This works best when you have a precise point where the roof is leaking, but a general idea of the leak will minimize the leak. 
Spread the tarp over the leak, making it tight and nail in place along the edges. Then apply the flexi-tape along the edges. If there are obvious holes in the ceiling, these can be patched with flexi-tape too for emergency roof leak repair job. 
Why does my ceiling leak when it rains?
Here are seven common Roof leak causes during heavy rain:
The Skylight: Rain leaking around a skylight is usually poor installation, old or missing insulation, missing or bent flashing, or ice and snow melting and infiltrating around the skylight. 
Plumbing: In some homes, basic plumbing has plumbing vents in the attic, protruding through the roof. In a heavy rainstorm, if the flashing is bent, loose, or missing, the rain leak in around those vents. 
The Chimney: Flashing is along the base of the fireplace at the roof, and if the flashing is bent, loose, or missing, the chimney becomes susceptible to roof leak, the repair is needed before this becomes worse. 
Improper Attic Venting: A poorly ventilated attic can cause condensation from high humidity levels. The attic will begin to sweat along the roof and walls, run down to the ceiling. 
Improper Maintenance: When roof maintenance is neglected, as the shingles age, they begin to crack, the asphalt wears thin, and eventually, heavy rain will seep under the shingles, into the attic, and your house. 
Nature: Trees are beautiful, but they are also an issue for roofs when they aren't kept trimmed back. Tree branches and limbs will fall off onto roofs, damaging the shingles. 
Can a leaking roof collapse?
Yes, if a roof leak repair isn't done promptly.  A leaking roof is a sign that there is water pooling between the ceiling and roof and that pooling water is putting weight on the roof beams, insulation, and drywall. Over time, the ceiling will begin to droop and sag, to the point where it could become dangerous and collapse.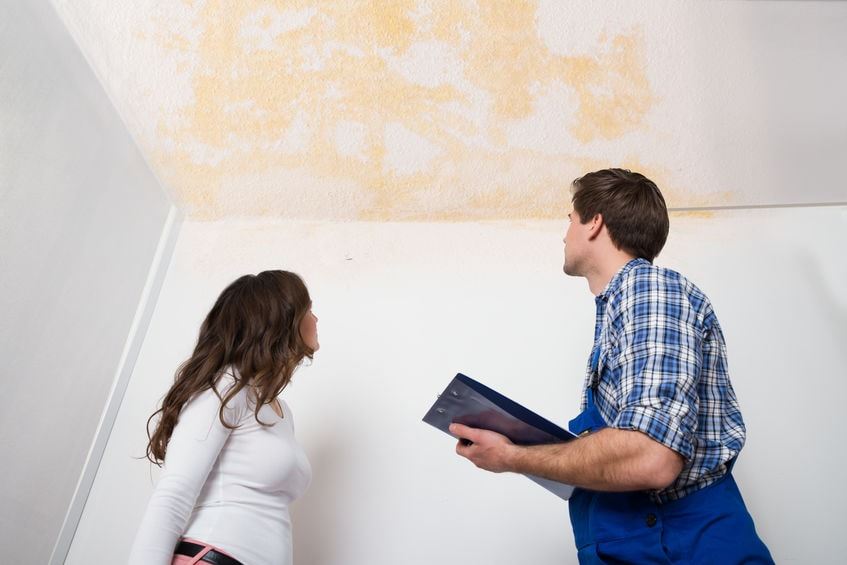 Closing Words – The Last Question About Roof Leak Repair
Will a roof leak cause mold?
If left unattended, yes. Anywhere that water is allowed to sit, mildew and mold will begin to grow. The mildew and mold will fill the air in the house, blowing through the air ducts. It is crucial to get the smallest roof leak repair as soon as possible to prevent this from happening.