How do I stop my roof leaking in heavy rain?
Spring is getting really close and here in Texas, that means blue bonnets and tornados. With tornados comes hailstorms, high winds, and hard rains, and those often leave homes with a roof leak. If you've never experienced a roof leak in heavy rain, and you live in this area, you should read this article and save it for reference. 
HOW DO I STOP MY ROOF FROM LEAKING INSIDE?
When your home a roof leak at any time, it isn't good, but when it is pouring down a hard rain, you have more than an inconvenience. You have a legitimate emergency. Because the more that rain comes in through the roof, the more damage it is causing. 
What you may not know until there is a heavy rainstorm, you've had a small hole in your roof for some time. Until the heavy rain coming in at a specific angle, you may never have known there was a hole! So, in a way, a heavy rain could be a blessing of sorts. Regardless of whether the hole existed already doesn't matter, you have a roof leak now for sure and need to stop the rain from coming in and get that hole pitched ASAP. 
Go up in the attic and remove all the wet insulation from the attic ceiling and walls. Dry up any water and place a piece of plywood over the floor  joists. Place a bucket or some type of container on the plywood so that it is catching the water. 
Find where the roof leak is coming in, which won't necessarily be where you see the water dripping from, unless there is a definite hole there. Just follow the water along the rafter or decking. 
Using a roofing shingle or plywood, and roofing tar, you'll create a temporary patch. Spread the roofing tar on one side of the shingle or plywood with a trowel and on the underside of the roof decking. Place the shingle or board over the hole and push firmly, then with a putty knife, spread roofing tar along the edges, sealing the patch. 
Measure where the leak is coming in from the from the gable and the ridge so that you can locate the roof leak from the roof top when the rains stop.  
What to do if roof is leaking during storm?
When you see water dripping from the ceiling during a rainstorm, you can be almost certain you have a roof leak. Your first step should be to protect your furnishings and belongings, your home, and money. The following are preventative steps recommended by professionals. 
As recommended above, go up in your attic and find the leak, the follow the steps we outlined above. 
Move all the furniture and electronics that could be damaged by water coming in the roof leak. Remove any rugs and cover flooring with plastic drop cloths. 
Examine the damage and take pictures. Check the ceiling and walls of the room and the attic. Check cabinetry, furniture, electronics, and other belongings that may have gotten wet. The pictures will be used by your insurance company, so take plenty from all angles. 
Determine if the clean-up and damage is something you can do yourself or if it severe enough you need a professional water restoration service. 
Call 3 or more roofing contractors and schedule an inspection and quote. 
Call the insurance company where your homeowner's insurance policy is registered. 
 How can I temporarily cover a hole in my roof?
During your monthly homeowner duties of examining your home's exterior, you notice some missing shingles, a hole in the roof, or flashing missing from around the chimney. Before it start raining, you need to take steps to cover these areas, but first, contact a professional roofing contractor.  Get that appointment scheduled and then take the following steps to prevent a possible roof leak: 
Get a plastic tarp from your local home repair store and some 2×4 pieces of lumber. Cut the lumber so that it will be square around the hole. Place the tarp over the hole, then place the lumber on top of the tarp, creating that square and nail it all to the roof. Don't worry about creating holes and causing a roof leak, you obviously already have holes and possible roof leak, or you wouldn't be up there, right? 
For areas around the chimney, exhaust pipes or skylight, that are missing flashing, you can spread roofing tar over those areas where the flashing was and that will stop any possible roof leak near chimney, exhaust pipes, or skylights.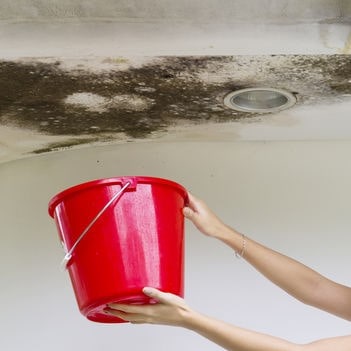 How do you cover a damaged roof?
After a typical spring storm in Texas, maybe you have more than just a hole causing a roof leak. You may have more than a basic roof leak; you may have a portion of the roof missing. After you've collected your wits about you, take pictures, plenty of pictures. You'll need these to support your insurance claim. Then follow these steps for a temporary cover until your insurance company had investigated and a roofing contractor is hired. 
Cover the Gaps and Holes: Sometimes a piece of plywood is enough, sometimes, the hole is bigger than that. If you can cover the area with plywood, it should be about 3 inches past the hole all the way around and attached with screws on the outer edge of the wood every six inches. 
Clear and Remove Debris: Inclement spring weather in Texas brings high winds and they toss debris on to roof tops. Clear off what you can safely. If there is a large tree limb or tree on your roof, then you'll need professional tree removal service. 
Place a Tarp Over the Gap or Hole: Unfold the tarp as you cover the gap or hole, reaching over the roof peak and past the eaves to make sure the area is thoroughly covered.  Position wooden planks around the edges of the tarp to hold it in place and secure them with screws. Be careful not to walk over the tarp. 
What if you have a roof leak and it isn't raining? You need to find out is it a leak or condensation dripping. Determining if you have a roof leak or condensation dripping from an air conditioner unit or may be a water heater leaking can make a difference if need a roofing contractor or a plumber. Call (817) 677-6664 today for roof leak repair in Arlington, TX.