When your home is damaged in some way, it would seem the logical next step is to file a claim on your insurance. For instance, if your roof is leaking and you need a roof leak repair, you may want to file a claim. But, before you do, make sure the damage fits under a covered peril and exceeds the deductible, otherwise, the insurance company will decline your claim. 
As with any damage to your home, a roof leak is usually covered if the leak was caused by a covered peril such as a storm or a fire. Even then, repairs may be limited. In an area, for instance, in which hail is frequent, hail damage may be excluded or coverage limited. A home with a roof that's over 10 years old might also get limited coverage. If your roof leak is caused by a lack of maintenance, it's unlikely it will be covered. 
No matter whether insurance covers repairs or not, if you have a roof leak, you want to get it repaired as soon as possible. Leaving it alone for too long can only lead to more costly repairs later on. For fast, effective roof leak repair in Arlington, TX, Frazier Roofing & Guttering Co., Inc. has you covered. You can schedule services with us by calling (817) 677-6664.
Can roof leaks be fixed
Most roof leaks can be fixed. Often a leak is a minor repair, but if there are several leaks, it may take more than just patches, nails, and sealant to repair them. Some leaks are serious enough that it may require you to replace the whole roof. If they've been around for a long time, the leaks may have caused other damage as well. Your roof deck or rafters or joists or other components may weaken and rot, and often anywhere there is prolonged moisture build-up, you may end up with mold. Small leaks do not go away. They only get worse.
Who can fix leaking roof
Depending on how severe the leak is, with the right equipment and skills, anybody can repair a roof. If your roof is less than 15 years old and in relatively good shape otherwise, you can probably get by with a roof leak repair using patches and sealant and replacing damaged shingles. While you might save money on DIY repairs, if you have serious leaks or an aging roof, you will want to get a reputable roofer like Frazier Roofing & Guttering Co., Inc. to come out and make the repairs or even provide a full replacement, if necessary. 
Roof leak repair or replace
When you have a roof leak, you may have to decide between a roof leak repair or a full roof replacement. Most of the time it's easier and cheaper to patch up the roof and replace any missing or damaged shingles with new ones. While this is the usual route most homeowners take, a full roof replacement may actually end up saving you more in the long term in some cases. This is especially true if your roof is more than 10 to 15 years old and showing signs of wear. If you just make a repair at this point, it's likely you'll be making more repairs sooner than later. If you find yourself making more and more repairs each year, replacement is a better option. Your roof's condition will be affected by such things as your area's climate and weather. Scorching sun, heavy snowfall, or areas where severe storms are common can all affect the way your roof wears. Have your roof inspected regularly to keep an eye on its condition. A knowledgeable and experienced roofing contractor can determine how well your roof is holding up and what repairs might need to be made to keep it holding up for a long time. 
How do you temporarily fix a leaky roof?
While a roof leak is never a good thing to hold off on, you definitely have trouble when your roof begins to leak when it's raining. This is an emergency situation, and you'll want to call a roofing contractor out for roof leak repair as soon as possible. If the roofer is delayed, you can make a temporary fix that will often hold out until permanent repairs can be made. The first thing you'll have to do is find the leak's source. How do you find a leak in a roof and fix it? Here's what you'll need to do:
Go into the attic because you'll usually find the leak's source there. You'll probably be able to trace the leak along the rafters until you trail it to the source somewhere from the decking. 
Remove wet insulation from the ceiling drywall, set a piece of plywood over the joists, and a bucket on the plywood to catch the dripping water.
Use a putty knife to spread roofing tar over the leak on the underside of the decking. Use a piece of shingle or plywood as a patch and apply it to the tar. 
Seal the patch with more roofing tar.
Once the rain lets up, get on the roof with rubber-soled shoes and reinforce the undersides of the shingles where the leak is located with roofing tar.
Place a tarp over the damaged area of the roof to prevent more damage to the roof until help arrives.
Can you use Flex Seal on a wet roof?
Flex Seal is a brand of spray-on sealant used for a roof leak repair. It can be used on wet surfaces, according to the manufacturer. We recommend using great caution when working on a wet roof. It's best to wait until the roof is dry.
Can leaking ceiling collapse?
Whether you have a roof leak or a plumbing problem, water that gathers on your ceiling can weigh it down to the point that it collapses. It's not a common occurrence, but it does happen from time to time. It's just one risk of letting a roof leak go on for too long.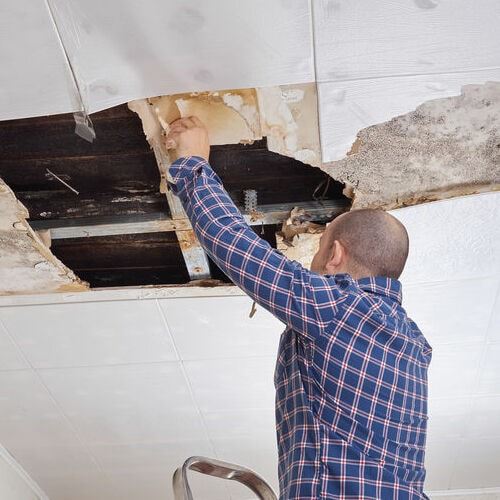 Residential roof leak repair
If you are a homeowner and need residential roof leak repair in Arlington, TX, you can get the fastest, most effective services from the experienced professionals at Frazier Roofing & Guttering Co., Inc.. Don't hesitate to call us at (817) 677-6664 if you need prompt service. We are ready to help.