Storm damage to your roof
Texas, The Lone Star State. Home of the Dallas Cowboys, Texas Rangers, Dallas Mavericks and so much more for bragging rights. It is also one of the states in Tornado Alley, not something we brag about, but we live with all year long. With the storms of tornado season, we're often left with storm damage repairs to our homes. 
We experience those high winds and large hailstones any time of the year, but during the spring and early summer, they are more frequent. When the excitement of those things are passed, we pull on our boots and survey the storm damage and roof repairs our home and our neighbors' homes may need. One of the first things you learn as a homeowner in Texas is how to tell you have storm damage because sometimes, it isn't always visible. 
It can be tempting for a homeowner to climb up on the roof to look for damage.  However, that is discouraged by insurance companies and roofing contractors. Use a pair of binoculars to access what you can from the ground. If you see possible damage, then call a professional roofing contractor to inspect your roof for storm damage repairs. Here are some of the signs you may notice:
Wind Damage: Here in Texas and tornado alley, winds can get up to 50mph or higher when hurricanes and thunderstorms come through. Here is how to tell if you have wind damage:
Missing Shingles
Visible Granule Loss
Visible Water Infiltration
Loose Debris
Hail and Snow Damage: When thunderstorm clouds drop to 32°F and below, hailstones are formed. A hailstone as small as 1" can leave behind the need for storm damage repairs. Hail damage can include any of the following: 
Hail-Damaged or Missing Shingles
Broken or Clogged Gutters and Downspouts
Ice Dams
Water Damage: High winds can drive water into a structure and cause damage. The smallest amount of standing water can create serious issues that require extensive and expensive storm damage repairs. Indications of water damage can include: 
Damage to Roof Accents and Supports
Visible Issues and Moisture in the Attic
Often, wind damage vs hail damage happen at the same time, because here in Texas, with strong winds of the storms that come through here, hail often is included. 
What do you do after storm damage?
When you know what to do when your home needs storm damage repairs, it can make a difference as to how well your claim is processed.  Just as well, taking the wrong steps or making bad decisions can leave you and your family in a compromising situation, including your safety and your wallet. The steps that you should take first are: 
Check for Damage Around and On Your Home
Review That Damage and Assess the Severity 
Contact A Roofing Contractor if You Need Roof Storm Damage Repairs 
Contact Your Insurance Company 
Prevent Further Damage 
How do you prove storm damage to roof?
As you follow our recommended list of checking where you may need storm damage repairs, take pictures and notes, if possible, make a video of the damage. Keep a copy of any contractor quotes you get for storm damage repairs and make sure your insurance company gets a copy of the estimates. 
Once you file your insurance claim, the company will send an adjuster to your home to review the storm damage repairs needed. If possible, ask the contractors you have received estimates from to be there with the adjuster. The adjuster is going to know what they have been trained to look for, the contractor will know what needs repair or replacement without causing any further damage. Remember, the contractor is on your side and wants your business. The adjuster is on the insurance company's side and will want to spend as little as possible. 
Can leaking ceiling collapse?
Absolutely!  If a roof needs storm damage repairs and they aren't done, then water can accumulate on the roof, pool up, create a heavyweight that could cause the ceiling to collapse. When you discover roof damage after a storm, like a leak, if it is safe to get to the leak, cover the area with a tarp, fastened down with 2×4 boards.
What do I do if my roof is blown off?
If the entire roof of your have has blown off, your first step should be to evacuate and seek safety immediately. Then call a roofing contractor for an inspection and estimate. If safe to do so, remove or cover any and all furniture you can to minimize any further damage. Once you and your family are safe, you have taken preventive measures and received a storm damage repair estimate from a contractor, call your insurance company.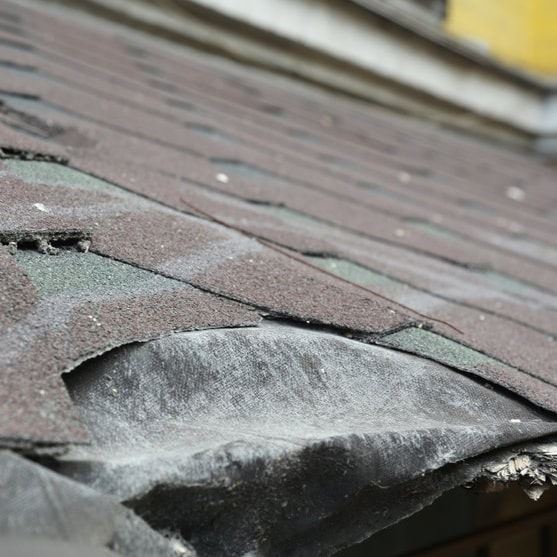 Does insurance cover water damage from roof leak?
You want to review your own homeowner's insurance policy because each policy is different. Most homeowner's insurance policies will cover accidental and sudden water damage from storms. However, what they won't cover is damage from floods, gradual leaks, or sewage backup. Call (817) 677-6664 today for roof storm damage repair in Arlington, TX.