Stone-coated steel roofing is a very resilient form of roofing, and many if not all roofing contractors can seamlessly discuss the advantages. Yet the question remains: can you walk on a stone-coated steel roof? You will be pleased to discover that yes, you can walk on a stone-coated steel roof. As always, it is essential for you to exercise all of the relevant safety precautions whenever you are getting on a roof because it is quite dangerous. If you need to get on your roof to repair it, may we please suggest first getting in touch with a roofing company? Professional roofing contractors are insured and usually have plenty of experience when it comes to ascending roofs.
Is a Steel Roof Worth It?
Steel roofs are a premium roofing product, which is why it is important to review the advantages and potential disadvantages. If you are interested in learning more, please read over the following list to uncover more pertinent information.
Metal roofs exhibit incredible durability and longevity.
While metal roofs are not as affordable as asphalt composition shingle roofs, they last more than twice as long.
Metal roofs can be recycled, which means that they are more environmentally friendly than other roofing products.
When installed correctly and with the right insulation, metal roofs are quite energy-efficient.
If you would like to receive more information, please feel free to schedule an appointment with your local, professional roofing company. A good project manager will help you deduce whether a new metal roof is in your budget and would benefit your home or property.
What is Stone Coated Roofing Tiles?
If you have not heard of stone coated roofing tiles before, it will be important for you to review exactly what processes go into making these premium roofing products. Stone-coated steel roofs are made out of steel or a similar metal. That metal is coated with stone chips and attached to the steel with an acrylic film. These roofs are made with the objective of creating a more durable roof that is aesthetically pleasing to the eye. More traditional roofing materials, such as asphalt shingles, or tile can be models for stone coated roofing tiles. 
Why You Shouldn't Get a Metal Roof?
If you are not already aware, metal roofs can be quite expensive. With a good roofing contractor, you can be certain as to whether or not a stone-coated metal roof is within your price range. You will also find out if you have other preferable roofing options. Metal roofs are beautiful, have incredible longevity, and, as mentioned previously, wonderful durability. According to many resources on the internet, the most credible reason for not investing in a metal roof is due to the expense. 
Does a Metal Roof Affect WiFi?
Are you worried about whether or not a new metal roof installation will impact your wifi? Truth be told, a metal roof will have a negligible impact on your wifi. Modern wifi systems are quite strong, and as long as you have a modem or router that were installed in the last three years, you shouldn't have any trouble forming and supplying steady internet connections for your household. You deserve to have a good internet connection, and if you are already struggling with your internet, it's important for you to review your options. 
What is Stone Coated Steel Roofing
As previously mentioned, stone-coated steel roofing is a premium roofing material. These roofs are made out of steel, or a very similar metal material. In order to give steel the appearance of more traditional roofing materials, a coating of stone is applied. The steel can be composed of twenty-four or twenty-six gauge rolled steel sheets. These are finished with the rust-preventing coating. The decorative stone coating gives the steel a finish of luxury, which is why it is considered an elite roofing material.
Stone-Coated Steel Roofing vs Standing Seam
One of the significant differences between stone coated steel and standing seam metal roofs is their finish. Stone-coated products will receive an acrylic coating. In such instances the stone granules are imbedded, giving the appearance of an asphalt coating. In contrast, standing-seam metal roofs look precisely like what they are, which is long sheets of painted steel with vertical seams.
Stone Coated Steel Roofing
There are many advantages to stone coated steel roofing. This is an excellent roofing product that should be closely reviewed if indeed the property owner is looking for a durable, stable roof that will endure many hail storms and natural weather events.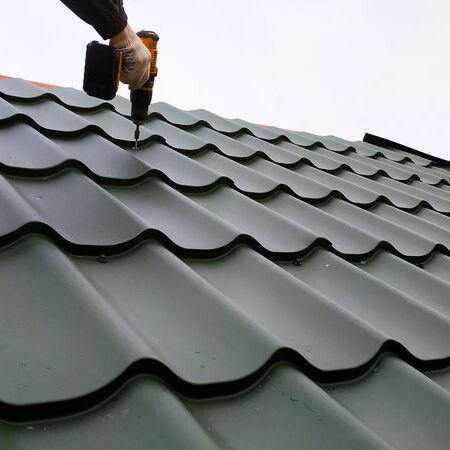 Stone Coated Steel Roofing Installation
Your local roofing contractor will have many viable options with regard to colors for your stone coated steel roof. Please be sure to review the light-colored options, as these will possess more reflectivity.
When you would like to discuss your stone-coated steel roofing in Arlington, TX, you can rely on us to give you the best information. Please reach out to us with a simple phone call to (817) 677-6664 today.